A strong tie between daily lives of its local people and natural splendid waters spouting out from countless spots in the region convinces of the fact that Taketa City has its national reputation as the home of great waters. 65 thousand tons of water gushes out in the town daily.
History of the town dates back to AD 1185 when origin of Oka Castle was built by Koreyoshi Ogata, later the castle was remodeled and officially named "Oka Castle" in 14th century. The castle is also known as motif of composer Rentaro Taki's work, "Kojo no Tsuki (The moon over desolate castle)".
It is not difficult to encounter fine water spots as visitors walk along a number of rivers that run through the town. Among others, "Sensui Springs" is known for its abundant water volume and unique water wheel at the source. Sensui Spring is also a home of "Enoha" trout and fireflies. Famous springs in the same area include "Yabaru Spring", "Kawauda Spring", "Narutaki Spring", and "Shioi Spring".
In addition to natural springs, Taketa City also has other pleasures such as great waterfalls and old stone bridges. "Amushi-no-Taki" waterfall demonstrates powerful fall of fresh water, whereas "Sobozan Ichigo-me no Taki" fall attracts visitors for its fine-look.
A number of old stone bridges are cast over rivers in the town, rather reservedly presenting their handsome arches. Among them is "Meisei Iro" bridge, with length of 78m it is the largest water bridge in Japan.
Location: Taketa City, Oita Prefecture
Transportation: Take "Taketa Kotsu" bus for Yoneyama from "Bungo Taketa Station" on JR Hohi Line, drop at "Kawauda" stop
Contact: Taketa City Office 0974-63-1111

| | |
| --- | --- |
| | Waterfall of Soboyama 1go-me (Photo by Taketa City Office) |
|   |   |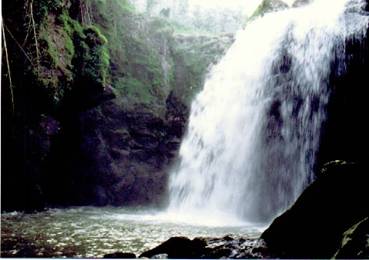 Waterfall of Ameushi (Photo by Taketa City Office)
| | |
| --- | --- |
| | Sensui Springs (Photo by Taketa City Office) |
|   |   |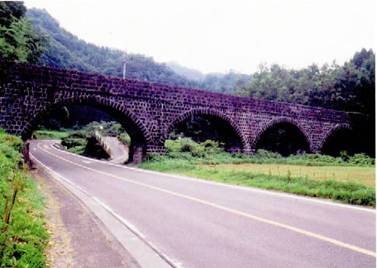 Meisei-Iro stone bridge (Photo by Taketa City Office)