According to legend, during his tour of conquest in east an ancient prince and brave general Yamato Takeru no Mikoto pierced his sword into a massive rock wall of Kamafuse-Yama mountain, and cold water suddenly jet out from the rock. The water was said so cold that he could take only one sip of it.
Together with downstream Fuppu River, the water was certified as one of 100 Remarkable Waters in Japan by Ministry of Environment in 1985.
The water spot is located by the motorway on Kamafushi-Yama mountain, approximately 30 minutes from "Yorii" station on Tobu Tojo Line / JR Hachiko Line, where queue of visitors with empty containers never dries up. Water at this spot is piped from the further uphill water source.
The water source is a huge rock, its unique structure leaves it perpendicularly standing. The water is quietly discharged from the foot of the gigantic rock also popularly called "Rock of 100 mats" for its sheer size. Unlike when Global Water visited previously, area of the water source is currently off limit as its exceptional natural structure can no longer guarantee safety of visitors to the very site.
Even if it is impossible to reach the source, great water of Yamato-Mizu can be tasted at the water spot on the way.
Car is preferred to get there, but if you are a steam engine fan, it may be a good alternative to take Chichibu Tetsudo Line who runs a steam engine on every Sunday.



Location: Yorii-machi, Oosato-gun, Saitama prefecture
Transportation: 20 minutes by taxi from "Hagure" station on Chichibu Tetsudo Line, or 45 minutes by walk. 30 minutes by taxi from "Yorii" station on Tobu Tojo Line / JR Hachiko Line



| | |
| --- | --- |
| | The water source: Rock of 100 mats |
|   |   |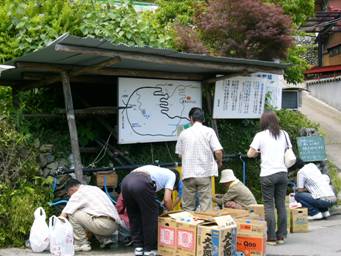 Visitors at the water spot


| | |
| --- | --- |
| | Fuppu River |