Kurotake mountain (1587m above sea level), located inside Aso Kuju National Park, never dulls visitors' eyes for its exquisite sceneries changing by seasons. The mountain was selected as one of "100 Japanese nature view" by Forest Cultural Association and Asahi Newspaper, followed by certification of Oike spring water as one of Japan's 100 remarkable waters in 1985.
Sitting on the mountain hillside, "Oike Pond" daily gushes out 20 thousand tons of fresh water which is naturally kept at 12.6℃ throughout year. It is also known locally that there is a hidden spot of even fresher water further uphill.
As a home of fine waters, Shonai Town has other water spots such as "Hiraishi Suwa Shrine".
Location: Shonai-cho, Oita-gun, Oita prefecture
Transportation: 40 minute bus ride to the last stop from "Tenjinzan" station on JR Kyudai Honsen Line, then 50 minutes walk
Contact: Shonai-cho Town Office 81-97-582-1111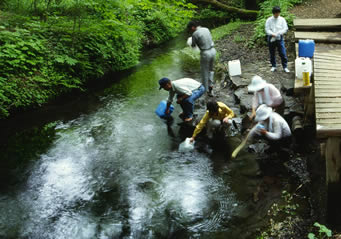 Oike Pond (Photo by Shonai town office)