"Nakatsu Burei River" and "Okuhata River", both upstream of Ohno River, are jointly referred to as "Hakusan River" when it was certified as one of Japan's 100 remarkable waters in 1985. The nature of Hakusan River entertains visitors all year long, especially in summer with boisterous dancing flies by thousands of fireflies and in Fall with colorful red and yellow leaves.
A number of unique water spots can be found in the region, including spout water from "Hogeiwa" rocks, water of "Dear falling waterfall", and sequential falls of "Reversing sweetfish waterfalls".
Notably the water in upstream can be safely drunk by visitors.
The river is also known for other features, such as "Inazumi limestone cave" which is uniquely structured in the water, and various stone bridges such as "Kokankyo".
Location: Bungo Ohno City, Oita Prefecture
Transportation: 20 minutes by car from "Mie-Machi" station on JR Hohi Line
Contact: BUngo Ohno City Office 0974-22-1001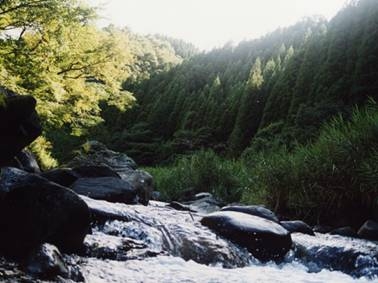 Hakusan River (Photo by Bungo Ohno city office)