Positioned in south of Aso Caldera, Minami Aso Village has water rich Shirakawa province known as home of waters.
Former Shirakawa Village, now a part of larger Minami Aso Village, has 8 recognised spring sources, most famous of which is Shirakawa Suigen. 60 tons of spring water per minute naturally gushes out from the spring bed, and the spring temperature is kept at 14 degrees C. throughout the year. The Ministry of Environment certified it as one of 100 remarkable waters in Japan.
Nest to the spring locates "Shirakawa Yoshimi Shrine", which enshrines god of water. One can visit the shrine and listen to the Kagura sacred music in every July.


Location: Minami Aso Village, Aso-Gun, Kumamoto Prefecture
Transportation: 10 minutes walk from "Minami Aso" station on Minami Aso Line
Contact: Minami Aso Village Tourism section 0967-67-1111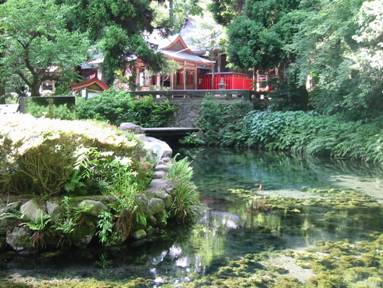 Spring is said to be protected by the shrine
(Photo by Minami Aso village office)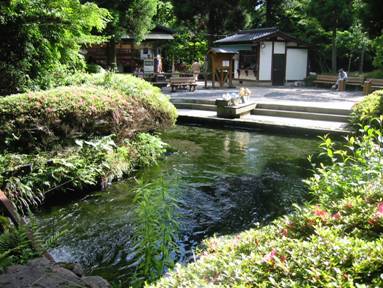 Water that represents renowned Shirakawa water springs
(Photo by Minami Aso village office)