Located near boundary to Oita Prefecture, Ubuyama Village is the home of this clean water. The spring water is filtrated through Kokonoe Yama mountains' layers and the nature powerfully spews out 40 thousand tons of fresh spring water every day.
Popularly used for production of Sake and Shochu liquors, the water is also suitable for drinking directly at the site.
The entire region is also known for great fishing area for Yamame trouts.


Location: Tajiri, Ubuyama Village, Aso-Gun, Kumamoto Prefecture
Transportation: Take bus for "Ubuyama" at "Miyaji" station on JR Hohi Line, drop at "Kami Tajiri" stop and 30 minutes walk
Contact: Ubuyama Village Tourism Section 81-(0)967-25-2211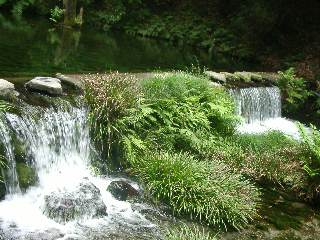 Not just drinkable but tastes delicious
(Photo by Ubuyama-mura village office)